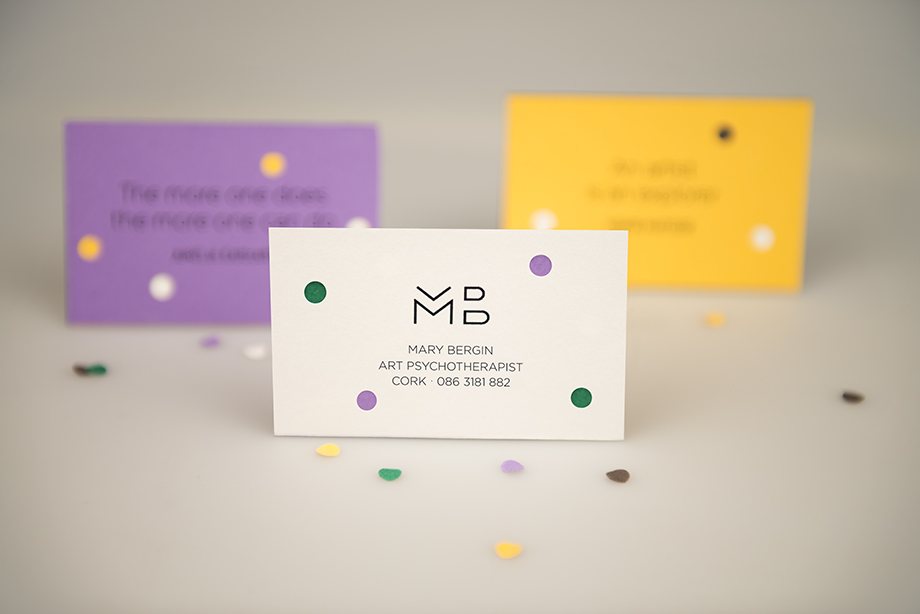 This project involved two very important levels of communication. The first being who my client, art physchotherapist Mary Bergin is. The second being what art therapy is or can be, when Mary presents this business card to her perspective clients.
I designed the logo based on Mary's love of geometric shapes. The crisp edges of the logo and accompanying typeface present Mary's professionalism. On the other side of the business card lies an encouraging quote by different artists such as Henri Matisse and Pablo Picasso. Mary has been creating her own work for years and in recent years her exhibitions have included many uplifting quotes and adages.
When designing the business cards I took into consideration the fact that art can seem daunting to the timid and frustrating to perfectionists. Therefore my aim was to focus on the inclusive, simple and whimsical side of art. The cards were created using different coloured paper and a hole puncher; elements that anyone could source and use. This simplistic approach serves two purposes: to emphasise how possible and doable art can be and to eliminate any inner doubt or fear in new clients.